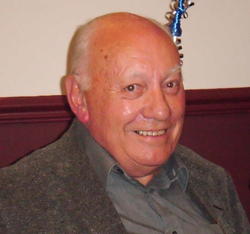 John Chesters, who had been our coach for many years, right up until the beginning of "Lockdown" in 2020, passed away quietly in his sleep in September 2021. John has been a pivotal part of the club for as long as most of us can remember, an honoured source of reference for pairings and contests, for points of technique, and for the rules of the game. Our club's long-standing culture of sociability, enthusiasm and mutual respect owes everything to his understanding, encouragement, humour and kindness. He will be very much missed, and is entirely irreplaceable.
---
We welcomed Eddie Chow as our Coach from June 2021. Eddie is a qualified badminton coach and fitness instructor, with multiple certifications including:
UKCC (Badminton England) Level 3 "Head Coach" Certificate
YMCA Fitness Instruction (Gym) Level 2
National Diploma in Sport
Emergency First-Aid at Work
Eddie has been fully briefed on the informal and social culture of our club, but of course will have his own style, and his arrival brings a new era for our club. He'll be supervising sessions with a light touch, but will be ready to help members develop their technique whenever needed.